According to the Office of Energy Efficiency and Renewable Energy, annually, the average American spends $2,000 paying their energy bills. However, $200 to $400 of that could be going to waste because of air leaks or outdated cooling and heating systems. Fortunately, you can save both energy and money, and increase the value of your home by performing some home improvement projects. Just make sure to focus on projects that increase your home's energy efficiency.
Before you attempt to make your home more energy efficient, though, you need to know where your level of efficiency currently stands. A home energy audit can help with this. Whether you get a professional home energy auditor or you do it yourself, a home energy audit is the first step to take before you tackle any energy-saving home improvement projects. It will help identify how much energy your home uses and any problem areas you might have.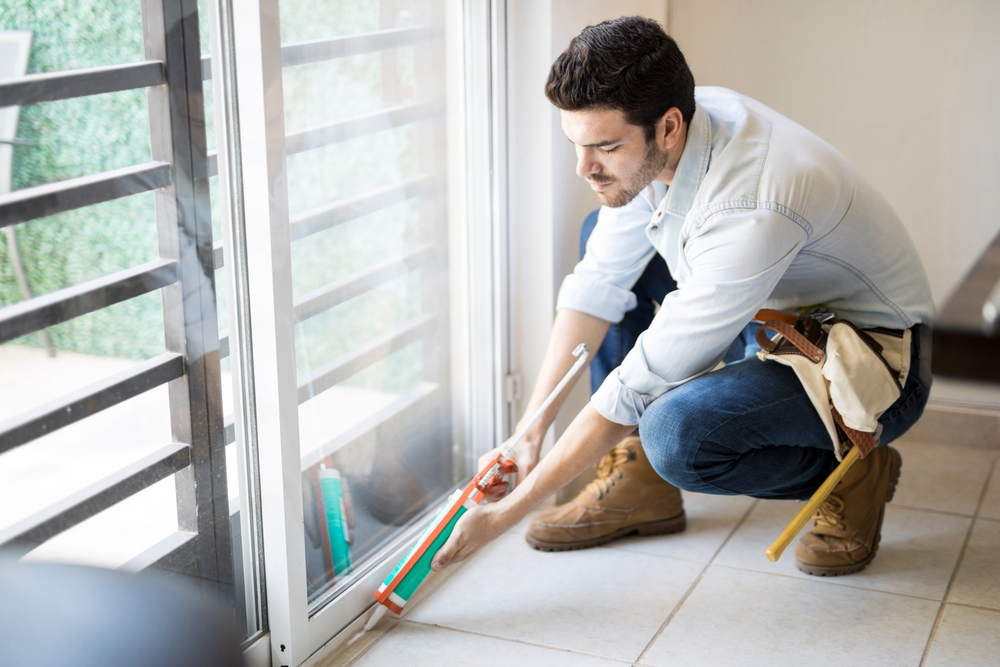 Once your home energy audit is done, you can begin your home improvement projects. Here are some projects that you can take on to make your home energy efficient.
Ten Home Improvement Projects That Promote Energy Efficiency
If you live in a drafty home, or the existing windows and doors don't shut properly, energy efficiency will be poor and it is probably time to replace them. While replacement doors and windows can be more costly than repairs, if you make the right selection, you'll save money long term by lowering your energy costs.
Here are a few tips on what to look for when purchasing new doors and windows.
1. Replace Your Windows and Doors
Windows and doors can lead to a lot of energy loss, especially if they are old. Newer windows and doors do a much better job of being energy efficient since they don't allow much hot or cold air to pass through. Replace your windows and doors if they're damaged, let in drafts, or if opening and closing them has become difficult.
If you don't want to replace your old doors and windows because they are still in good condition, you can install storm windows. Installing storm windows is a quick and cost-effective way to increase your energy efficiency. Most storm windows are coated with an ultra-thin layer of metal that improves your window's insulation ability. Alternatively, you can make sure that your windows and doors are airtight by adding weather stripping or sealing around the frame.
2. Add Ceiling Fans
Ceiling fans can effectively help circulate air around your home. Ceiling fans enhance your indoor air quality and cost much less than running an air conditioner. Make sure to set the fan to move in the correct direction based on the season: clockwise in the winter and counterclockwise in the summer.
3.Add to Your Insulation
The U.S. Department of Energy created a fact sheet to help homeowners determine whether they have enough insulation or not. Many older homes are under-insulated while newer homes are usually pretty well insulated, but homeowners should still cross check with the fact sheet to make sure that lack of insulation isn't costing them any money. Adding more insulation will keep your home warmer in the winter and cooler in the summer leading to both money and energy savings in the long run.
4. Repair Your Siding
Your siding not only protects your home from the weather, it  also prevents heat loss during the winter and keeps cool air inside during summer. If see any signs of damage on your home's exterior siding, you should consider siding repair in Kansas City, MO.
If you want to further increase your energy savings, you can go for insulated siding. With insulated siding, an extra layer is added to the back of the siding material.
5. Get Energy Efficient Lighting
Save money on your electric bill by switching to LED or CFL light bulbs and rely on natural light when you can. Larger windows and skylights are great additions to homes in cooler climates because, aside from adding value, they also let direct sunlight in. This warms the interior by promoting natural warmth during winter.
6. Fix Your Roof
Many homes lose a lot of heat through their roof. Since heat rises, old or outdated roofing without proper insulation does nothing to prevent hot air from traveling through and escaping. Your roof also absorbs summer heat and lets it into your home, causing you to crank up the AC. Fixing your roof, or even installing a new one if necessary, can increase the energy efficiency of your home.
7. Seal any Leaks
Air can leak into and out of your home through gaps and cracks. Even the tiniest air leaks can drive up your heating and cooling bills. Luckily, leaks can be easily fixed using a sealant.
This is one of the most inexpensive things you can do to conserve energy. When looking for leaks, start in the attic; this is where you'll likely find the biggest energy drains.
8. Install a Programmable Thermostats
Programmable thermostats automatically regulate your home's temperature based on a series of settings that you choose. For example, during the summer they allow the temperature to rise when the house is unoccupied and kick on the AC once you get home. These thermostats can help you save as much as 10% on your heating and cooling bills.
9. Upgrade Your Appliances
Outdated appliances eat up a lot of energy. The biggest culprits are dishwashers, washing machines, refrigerators, and dryers. Upgrade and replace them with more energy efficient ones that consume less energy while they're in use and when they're idle.
10. Tune-Up Your Heating and Cooling Systems
The heating and cooling systems in your home utilize more energy than any other system. Make sure that these systems are always working properly by keeping them well-maintained and servicing or upgrading them as needed. This, along with proper insulation, air sealing, and thermostat settings, can seriously cut down on your heating and cooling energy use.
These are just a few home improvement projects that can help you create a more energy efficient home. While you can do some of these projects by yourself, a lot of them are best left to professionals. At Precision Windows & Doors, you can rely on us to help you save on your energy bill and help the planet at the same time, from simple repairs to complete installations we are here for you. Get in touch with us today!